Bait-Tech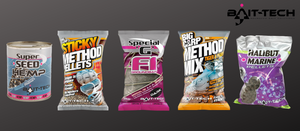 Bait-Tech started in late-2006 by Peter Clapperton, a passionate angler all his life, with many match successes under his belt. He is responsible for creating the mighty Essex County SuperTeam in the 90's. A team whose record will be hard to beat.
In the early 80's Peter began importing groundbait from the continent. The bait was highly successful and it wasn't long before he was involved with product development. As the UK bait market changed Peter wanted baits specifically for the UK market and Bait-Tech was formed.
Without doubt some of our best sellers within the Bait Tech Range are the Marine Drilled Halibut Pellets perfect for our local rivers with also the matching Marine Halibut Groundbait.
Bait-Tech