Drennan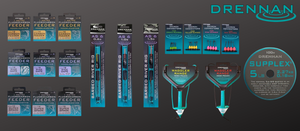 Drennan International was founded in 1967 when its current Managing Director, Peter Drennan, began producing a small range of balsa wood floats in his mother's garage.
Having served his angling apprenticeship with some of the finest anglers of that era including the likes of Dick Walker and Peter Stone, young Peter Drennan was already recognised as something of a tackle expert.
With the ability to design superior floats and the craft skill to make them, the original one man business expanded steadily from those humble garage beginnings to now offering more than 2500 individual products from its headquarters in Oxford. All research and tackle development remains in the UK together with some of the more complex high-tech production with Drennan very strong on the engineering side.

The criteria for Drennan is always that the product must be good value for money, trouble free and must help people catch fish.

We stock a large range of Drennan in-store but proving very popular at the present time with our local match anglers is the new Power Pull Elastic, whilst the Specialist range of luggage has been a hit for many years with barbel anglers on both the Severn and Avon.
Drennan