Dynamite Baits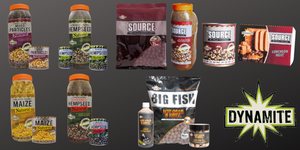 Dynamite Baits
Dynamite Baits is Europe's biggest bait manufacturer specializing in carp boilies, carp pellets, match groundbaits and fishing particles. There are probably not many anglers around Europe that haven't heard of Dynamite Baits or purchased some of their Match, Coarse fishing or Carp fishing products.
From market leading brands like Frenzied Hemp to The Source – what better example is there of innovative baits that have stood the test of time?
Some of the sport's top anglers work with Dynamite including the likes of Nick Speed and Rob Wootton on the match fishing side, plus Ian Russell on the carp side. They also work with many more anglers from different countries and value all the input in helping shape and supply new product ideas such as the brand new Source Particles, ensuring that Dynamite continue to lead the way in the bait market.
In recent times our local river anglers have latched onto the Big Fish River Range with the baits producing many specimen-sized chub and barbel from around the area.
Dynamite Baits