Shimano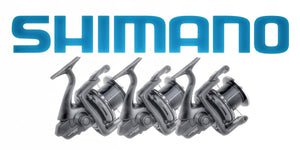 Shimano Reels With 0% Finance Options Available
Shimano has been developing reels ever since the company first diversified into fishing tackle design and manufacture over 40 years ago. Prior to this diversification, the company was best known for its production of world class bike gears, so it already had an intimate knowledge of tings that spin. Shimano put all this knowledge to work in its production of fishing reels, and now the company is seen as one of the leading experts in reel design and production.
Shimano's ethos of evolution means that Shimano's reels are constantly being re-imagined and redeveloped. This ensures that the reel you buy will sit on the cutting edge of angling reel innovation, and Shimano are dedicated to bringing angling into the twenty first century. It is a company motivated by the challenges it sets itself, and is constantly striving to exceed its own expectations. This translates directly into tackle that exceeds your expectations at the water's edge time and time again.

Not only are Shimano reels high performance, but they are also designed to look good too. This ensures that the reel looks as sleek as you feel when it is performing to the maximum, reeling in the catch of a lifetime.

If you have any further questions about Shimano reels, please don't hesitate to contact us at Bankside Tackle. Our team are always happy to advise on what would be the best reel for your budget and fishing situation. 
Shimano