Trakker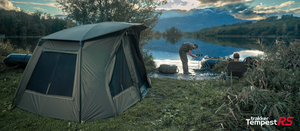 Trakker Products. One Step Ahead
Trakker is a company with a rich history. This heritage is important to us but we must always look to the future. Our customers have steered the company to the needs and expectations of today's serious angler.
Trakker Products are designed with the serious angler in mind, and as such are built to last. This may mean that their products are not the cheapest on the market, but it is surely worth paying a little extra for the best products in the carp fishing industry. Trakker prides itself on using top quality materials over the cheaper alternatives. Trakker believes it is worth investing in the best. Its products are now used by anglers across the discipline, with many in the predator fishing community having taken a shine to the innovative and driven brand.
From Bivvies, Beds, Luggage, Clothing and Sleeping Bags,  Trakker Products are at the forefront of design and quality.
Trakker