Daiwa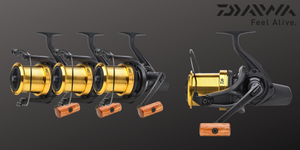 Daiwa | Feel Alive
Buy Daiwa Rods & Reels at Bankside Tackle. Competitive prices with 0% Finance Options Available.
Originally Daiwa was built on exports and quickly became an established name in the international market, with offices created as far flung as Los Angles, Taiwan, and Australia in first twenty years of the company. Worldwide, the brand have expanded into golf, tennis, and cycling, as well as keeping true to their fishing roots, and the global company now trades under Globeride.
Daiwa Sports Ltd's UK office was set up in 1977 in Whishaw, Scotland, where it remains to this day. Daiwa Sports Ltd have a full range of products specifically designed for carp, coarse, game, lure, sea and specialist fishing – with expert consultants dedicated to each aspect of the fishing experience. Scotland now boasts Daiwa's largest factory outside the Far East. This means that a large majority of the rods and poles sold in the UK have been built and designed in the UK, with UK anglers, and the specific challenges they face, in mind.
Daiwa's specialist carp reels have become a firm favourite with many anglers. With many models available there is a price to suit any budget.
Daiwa