Free Spirit S-Lite Rods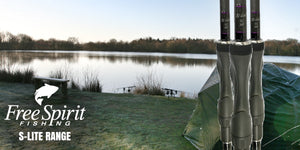 Free Spirit S-Lite Rods
Free Spirit are always keen to test out new technologies in rod design and in the last 18 months or so one has particularly stood out. The material in question allowed Free Spirit to build very strong slim blanks yet with very efficient recovery that were reminiscent of the now legendary Hi 'S' Range.
The new 'S' Lite range of rods have been rigorously tested by the team at Free Spirit and have been casting huge distances testament to the loading response and fast recovery this new material lends to the blanks. 
However, as with all Free Spirit rods the finish has to be right too and the stunning weave on the new 'S' Lite range as usual features the 'Perdurable' finish. To compliment the 40t low resin ultra slim blank is a new reel seat - the Fuji VSS17. This features open sides and Free Spirit fit a carbon sleeve as the same material of the blank. The guides also feature black frames with all fittings stainless steel for durability.
40t Low Resin Ultra Slim Blank
Perdurable Finish
S-Lite Black 3 leg rings
50mm-16mm Ringing
New Fuji VSS17 Reel Seat
Full Custom Build Available
Free Spirit S-Lite Rods